To book a Reading contact Maria directly at maria@mariawhitworth.com  
 

 

 

 

 

 

The Truth Never Dies - Chronicles from Beyond the Grave

For a Reading contact Maria directly at maria@mariawhitworth.com

Copyright ? 2010 Maria Whitworth

 
Now on Amazon!
Marilyn Monroe
My Story My Life - Ebook
The following E-book is Marilyn Monroe's detailed recollection of her own death. This book has been published at Marilyn's request, hear what her shocking story unfolds; discover the untold answers to the mysterious death of Marilyn Monroe.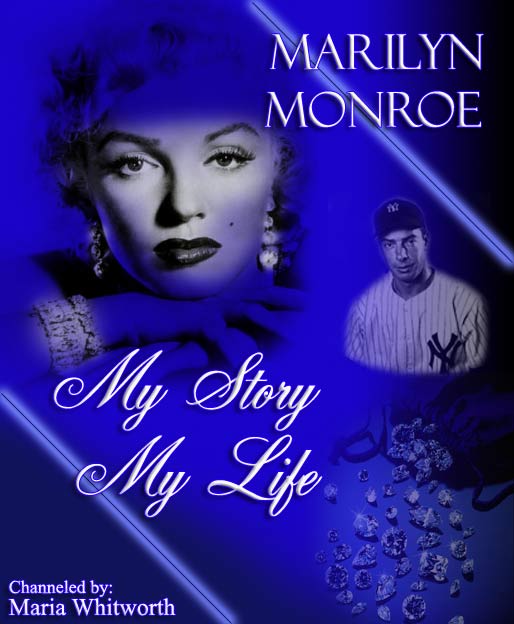 Now on Amazon!
Marilyn Monroe:
My Story My Life
Ebook
A resounding truth echoes in this story as Marilyn Monroe talks about the
fight for her life. How she watched from her still conscious mind the entire cover-up.
Marilyn's wishes were for her beloved Joe DiMaggio be freed of the
horrendous guilt he had to live with every day since.
The  dialogue  gives depth to Marilyn's and John. F Kennedy's friendship and how he lived to see a prediction a New York Psychic had forecasted, that his and her lives were in danger.
Manic depressive affairs at home played a role in Marilyn's life and this evidence was used against her character making a good candidate for suicide.
Marilyn's  last wish is that she tells the story just way she intended to write it.
This is her story...
Channeled By Maria Whitworth
A vessel in which Marilyn Monroe's thoughts could manifest.
Online Marilyn Monroe My Story My Life Ebook $7.99
Now on Amazon!
Hidden Truths throughout History Uncovered
Journey of the Sphinx

by Maria Whitworth

The Blueprint for the Ultimate Shift of Consciousness

Online PDF version $9.99

Soft back $19.99

Contact Maria Whitworth for a personally signed print  $29.99 ea.
 For a Reading contact Maria directly at maria@mariawhitworth.com
Copyright ? 2010 Maria Whitworth